I am Matthew Morgan an English Speaking / Bilingual (EN/FR) DJ in Europe from the UK and have been DJ'ing in the UK for many years, playing at many of the North and Midlands Finest venues, And now I DJ solely in France {MatthewUKDJ.eu , britishdjinfrance.fr } are my most popular websites.

Latest: An amazing year of wedding parties, and a lot of "Catch-up" functions. Met some very nice and appreciative people, and had a lot of full dance floors.. The covid-catch-up weddings are nearly all done now. I still availability for 2024 and 2025, so if you have not already sorted your music, now is the time…
Bookings are very lively for '24 (I am filling up nicely, as well as all my colleagues)
Remember to BOOK EARLY! I am a British DJ in France, and live mostly in France now.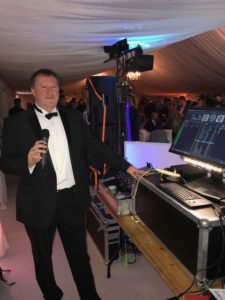 As a British DJ in France In 2013 I started my first "tour de France", DJ'ing in the Dordogne's and beyond, finest Châteaus
Then in 2018-19, I stretched out as far as the Czech Republic, (admittedly for a Friend's Wedding)
and am now happy to offer excellent DJ'ing services across other parts of Europe.
So if you are looking for a wedding or Party DJ that is English Speaking (Bilingual – French) please get in touch.
I play an eclectic mix of World Music, and a lot of U.S. and U.K. music, and have music that covers Czech, Persian, Indian, French and German, Irish, Scottish and can and will get any music you feel you or your guests will enjoy dancing and partying too.
Areas I would quote for include France, Germany, Austria, The Czech Republic , Germany, Belgium, Holland, Austria, Italy, Switzerland, actually almost anywhere (if you have the budget)
Please try me for a quote for Wedding Ceremony Music and evening Dance Music.
Through my membership of two French choirs, I have access to Choirs, Vocalists and Organist for your ceremony in South West France, should you need them, or I can play Recorded Music for you in Church or at your ceremony venue.
Other services I offer
Bookings on the increase now for 2024 and 2025
NOTE: using this website means you have read and accept my limited trading terms, https://matthewukdj.eu/booking-terms/ and have also reviewed my FAQ's
Videos and images.. link to gallery below. I usually try to avoid Recordings / videos of gigs, because I fear some people could be easily Put-off if they hear a song they hate etc.. but I have a brief clip here: https://www.youtube.com/watch?v=TgmPn3Y1vmk&t=9s
featured on simply wed and Brides in France and I had 5 minutes of fame promoting my day job on the Radio, France Bleu
I may also be interested in Contract work for Party Seasons etc across one or multiple venues.
(note sound and lighting maybe hired locally)
Gallery of images, latest, https://matthewukdj.eu/rl_gallery/images-2023/ and historical https://sounds-crazy.fr/gallery-2/
Some feedback from Last few years " tour de France" etc: here
My other DJ in France website: https://sounds-crazy.fr
My business name in France is Sounds Crazy France (Mr Matthew Morgan)
FR.
Je suis Matthew Morgan, un DJ anglais britannique originaire d'Europe. Je suis DJ au Royaume-Uni depuis de nombreuses années et j'ai joué dans de nombreuses salles North et Midlands Finest.En 2013, j'ai commencé mon premier tour de France, DJ dans les meilleurs châteaux de la Dordogne et au-delà.Maintenant, en 2018-1919, je me suis étendu aussi loin que la République tchèque (certes pour le mariage d'un ami) et je suis maintenant heureux d'offrir d'excellents services de DJing dans d'autres régions d'Europe.
Donc, si vous recherchez un DJ de mariage ou de fête qui parle anglais, veuillez nous contacter.Je joue un mélange éclectique de musique du monde, et beaucoup de musique américaine et britannique, et j'ai une musique qui couvre le tchèque, le persan, les indiens, le français et l'allemand, l'irlandais, l'écossais et peut obtenir toute musique que vous sentez, vous ou vos invités. profiter de la danse et faire la fête aussi.Les domaines que je citerais sont notamment la France, l'Allemagne, l'Autriche, la République tchèque, l'Allemagne, la Belgique, les Pays-Bas, l'Autriche, l'Italie, la Suisse et presque n'importe où (si vous avez le budget)
S'il vous plaît, essayez-moi pour un devis pour la musique de cérémonie de mariage et musique de soirée. Grâce à mon appartenance à deux chorales françaises, j'ai accès aux chorales, chanteurs et organistes pour votre cérémonie dans le sud-ouest de la France, si vous en avez besoin, ou je peux jouer de la musique réorganisée pour vous à l'église ou sur votre lieu de cérémonie.
Veuillez utiliser ce formulaire, pour obtenir un Devis pour votre événement
Ouvrez un formulaire Microsoft en ligne, et les informations collectées sont privées et ne seront utilisées qu'aux fins de ce Devis.
Siren / Siret code: 803 364 462(00025) R.C.S. Périgueux 24/02/2022

Assurance / Insurance FRANCE
RESPONSABILITÉ CIVILE PROFESSIONNELLE  agence – assurp / Hiscox Valid Avril 2023 – Avril 2024
Siren / Siret code: 803 364 462 00025 R.C.S. Périgueux 24/02/2022
Dj (avec son matériel ) MORGAN, Matthew